Promotions
Spring Special
One Free Mowing and One Free Fertilizer application with any pre-paid Seasonal Lawn Maintenance contract.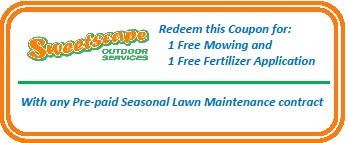 Right click on Coupon to print.
On-going Specials
Refer your Neighbor and SAVE program.
Always discounts available for Families, Groups, Blocks, and Neighborhoods.
We love pre-payments, so we will make it worth your while!
Contact Hank, or any of the friendly people at Sweetscape, for further details on how you can benefit from these specials and programs.